Discover the best Pooler events for 2023! We're your Pooler Calander for all things happening in Pooler. Please check with all organizers/events before making plans. All events are subject to change. 
An Evening with The Everly Set (A Tribute to the Everly Brothers)
December 6 @ 8:00 pm

-

10:00 pm
The Everly Set: Sean Altman & Jack Skuller celebrate and perform all the hits you know and love from the Everly Brothers.
In 1957, teens Phil and Don Everly supercharged the vocal sound of Rock'n'Roll with "Bye Bye Love" and "Wake Up Little Susie", unleashing the sparkling vocal harmonies that would influence The Beatles, Simon & Garfunkel, The Beach Boys, The Hollies, The Eagles, Peter Paul & Mary, and the Bee Gees.
Now, six decades later, two acclaimed singer-songwriters with a mind-bending three-decade age difference combine millennial pluck with baby-boomer sass to present The Everly Set: Sean Altman & Jack Skuller Celebrate The Everly Brothers, featuring Bye Bye Love, Wake Up Little Susie, Cathy's Clown, All I Have To Do Is Dream, When Will I Be Loved, Crying In The Rain, Love Hurts, Bird Dog, Claudette, Walk Right Back, and more hits and rarities in concert.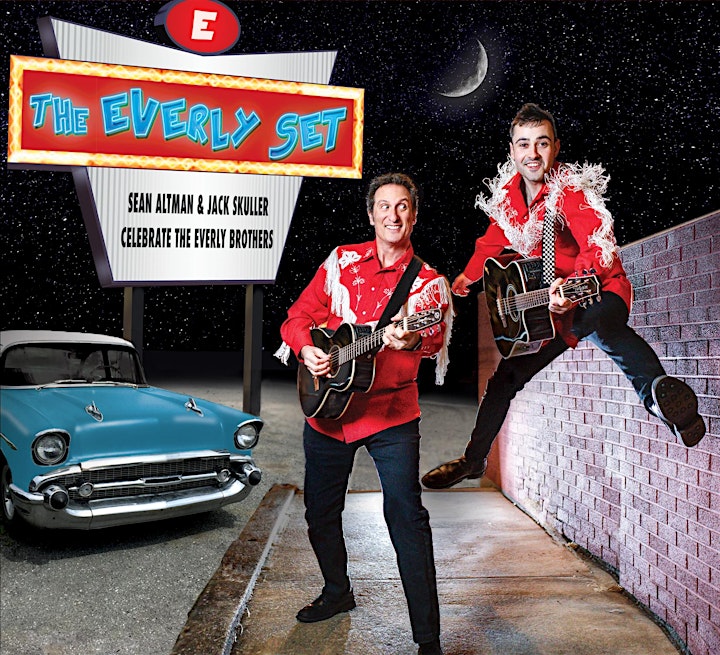 BIO
Jack Skuller signed his first recording contract at just 14 years old. His debut single "Love is a Drum" was called "arguably the best single released by anyone year" by The Examiner, and The New York Post labeled Skuller "a mini Jack White." His music career has since earned him a reputation for powerful live shows rooted in old school rock'n'roll. In his teen years, Skuller performed his original music for thousands of people across the U.S. as a Disney recording artist. He has been featured on the Disney Channel, FOX-TV's Good Day New York, Amy Poehler's Smart Girls, and with the GRAMMY Foundation. His music was selected for an ASPCA campaign, and is continually played on indie rock radio across the U.S. (including Sirius XM). The Songwriters Hall of Fame recognized his talent by awarding him the esteemed Buddy Holly Prize. Now, Skuller continues to produce his raucous, catchy brand of rockabilly and rock'n'roll that American Songwriter once noted as "analog, vintage, and cool, with a sincerity." As NYC The Deli Magazine put it – "Buddy Holly would be proud."
Ex-Rockapella star Sean Altman is "tuneful and sharply witty" (Los Angeles Times) and "relentlessly clever" (Chicago Tribune), with "catchy melodies, clever arrangements and lyrics that yield satiric gems" (Washington Post), combining "the tunefulness of the Beatles and the spot-on wit of Tom Lehrer" (Boston Globe) with a "silky tenor voice that produced chills" (New York Times). Altman — widely regarded as "the Father of Modern A Cappella" — co-founded and led the pioneering vocal group Rockapella through its heyday on the Emmy-winning daily PBS-TV series Where In The World Is Carmen Sandiego?, for which he co-wrote the famous theme song. Original songs from his six albums have been featured on dozens of TV and radio shows including Saturday Night Live, NPR's Fresh Air with Terry Gross, The Daily Show With Jon Stewart, The Colbert Report, and Schoolhouse Rock. Altman has twice performed at the White House, he has shared concert stages with Billy Joel, Steve Miller, Whoopi Goldberg, Jon Stewart, Stephen Colbert, Jay Leno and Joey Ramone, and he has recorded with artists as varied as Steve Miller, XTC, John Cale, Richie Havens, and They Might Be Giants.